President: Judi Fanco
Second Vice-President: Theresa Welling
Treasurer: Joanne Camiller
Corresponding Secretary: Irene Zelazny
Recording Secretary: Gerri Borys & Kathy Damphousse
Program Director: Donna Longuski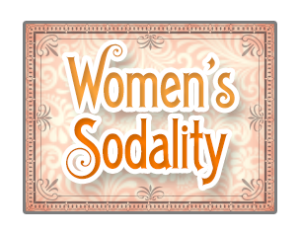 Our monthly meetings are on the first Monday of each month at 7:00 pm in the Activities Center music room….
The object of this organization shall be to promote the Spiritual sanctification of each member, to unite the women of the Parish in the spirit of friendship and cooperation, to care for the Altar, to serve the Parish community through numerous committees and functions and to provide financial assistance as needed for their equipment and maintenance.
The Women's Sodality was chartered in 1959 and was originally called the Rosary Altar Sodality. It has been a vehicle for strengthening our community spirit within and outside the Parish Some activities over the years include: Christmas Bazaars; Arts and Craft Shows; Bake Sales; Raffles; Fashion Shows; Sacramental Receptions; special breakfasts; and installation dinners. The St. Maurice Women's Guild has been an active organization for many years – aimed at organizing and performing many of the most important parish functions like the annual picnics, bake sales and special receptions. Both womens' organizations have now come together to form a new, stronger maternal organization that will serve our parish family for years to come.
Responsibilities include: Altar care and cleaning; maintaining servers robes and Altar linens; decorating sanctuary; providing Baptismal stoles; hosting special receptions; maintaining kitchen and equipment; assisting Our Lady of Providence and other local nursing homes; and maintaining/decorating the Blessed Mother Shrine.
---
NEWS
If you have any items for the Easter baskets for the residents of Angel House or Livonia House, they can be put in the Sodality drawer in the back of the Church. Items needed are: Kleenex, deodorants, shampoo, tooth brushes, tooth paste, hair brushes, combs, small snack size crackers, pens, hand lotion and any other small item you think they could use. There are 5 men and 9 women. Joanne and her helpers will be taking the baskets to the homes sometime this week.
Our next meeting will be the day after Easter Monday April 2nd 7:00 pm. Our guest speaker will be Maryanne Rodemeyer. She will share memories of her trip to the Holy Land. The trip
included an area of Jordan that Jesus, Mary and the disciples visited, a castle from the Crusades, a Basilica, Church in Cana, Mt. Tabor, Jordan River, old Jericho, Jerusalem, Garden of Gethsemane and Bethlehem. You do not have to be a member of our parish to come to hear her talk and watch the video presentation. Bring a guest!
Remember to say an extra Prayer for your fellow Sodality members.
---
See you in Church
Theresa