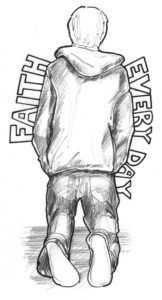 F.E.D High School Youth Ministry meets weekly 

on Sunday from 12:30 – 2:00 pm
See bulletin or Social media for changes or other events.
News from Youth Ministry
Our Youth Ministry is organizing a parish Family Game Night, stay tuned for upcoming details!!
Welcome all high schoolers, join us Sunday 4/15 for a movie afternoon. We will be watching "God's Not Dead". Meeting begins at 12:30 pm.
Youth Ministry is hosting our parish Easter Egg Hunt on Saturday March 24th from 10:30 am to 12:00 pm in the Activities Center. Please fill in the form and drop it off at the Parish Office, Faith Formation office or call the Faith Formation office @ 734.261.5920 to let us know how many children, grades Pre-4th will be attending. Please bring your own basket.
Last week Michael T did a great job on teaching about our conscience and the struggles that some people have between our society and our religious beliefs. This is a great segue to our next topic – DEFENDING OUR FAITH WITH OUR PEERS.
At our meeting on March 25th, Palm Sunday, we will be experiencing the Story of Christ's Passion through a light meal and scripture readings.
FAMILY MEMBERS ARE ENCOURAGED TO JOIN US!
"The Sacred Walk of Holy Week," a retreat for those who minister to our youth and young adults, will be held March 23-24 at the Queen of the Family Retreat Center in Oxford, Michigan.
The retreat offers youth and young adult ministers an opportunity to unite their experiences of joy and heartache, and everything in between, with Jesus' triumphant walk through Holy Week. By taking time to prepare for the journey Jesus intentionally walked for each of us, they will be able to see what the path means for them today.
Gifts to the Catholic Services Appeal allow the Archdiocese of Detroit to minister to those who foster the spiritual and personal growth of our youth and young adults, and to empower them to become disciples of Jesus Christ and actively witness their faith.
For more information about CSA-funded ministries, programs, and services, go to www.aod.org.
---
---
Medical Treatment Authorization Form
PARENT-PERMISSION-FORM-FOR-FIELD-TRIP-PARTICIPATION
---