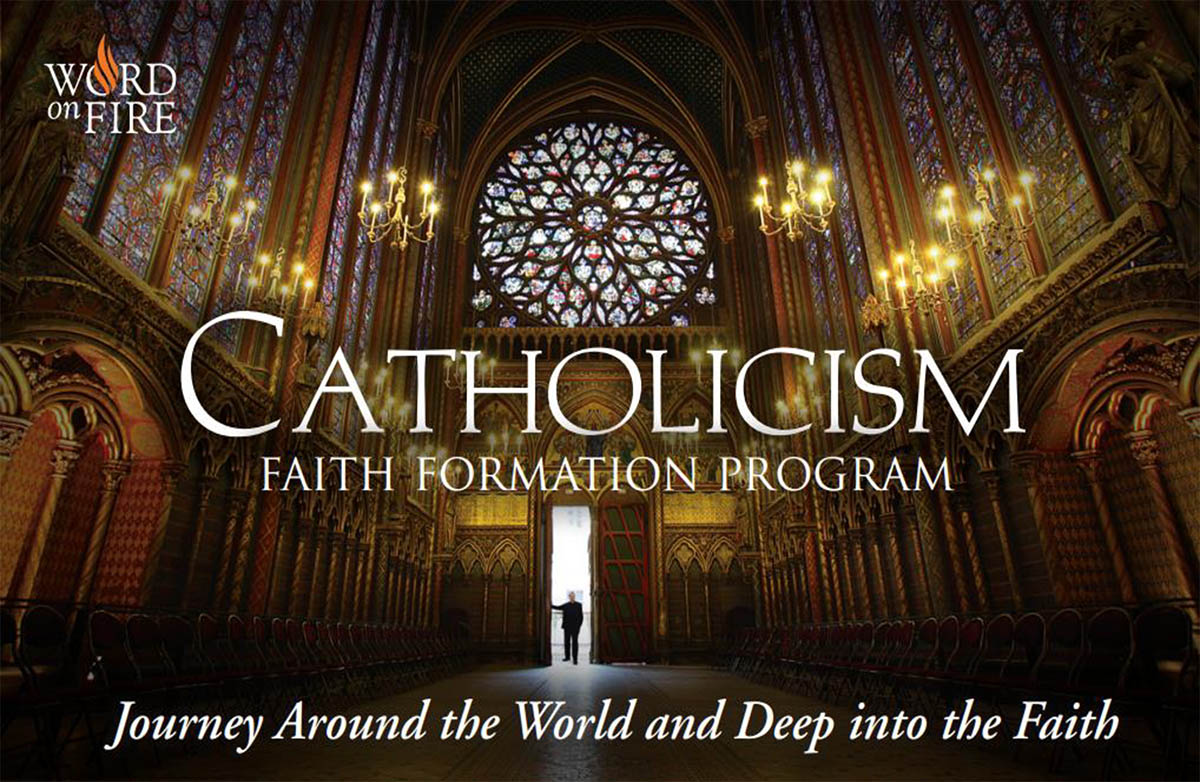 Catholicism
Experience the Catholic Faith as you've seen it before…
For the first time, in breathtaking and high-definition cinematography, the truth, goodness and beauty of Catholicism are illustrated in a multimedia experience.
Journey with Bishop Robert Barron to more than 50 locations throughout 16 countries. Be illuminated by the spiritual and artistic treasures of this global culture that claims more than one billion of the earth's people. Learn what Catholics believe and why. Discover the full meaning of the faith.
The study begins Thursday September 15, 2022 @ 7:00-8:30pm.
You will need a study guide to participate
https://bookstore.wordonfire.org/products/catholicism-study-guide
---
The 2022-2023 School Year is fast approaching! St. Genevieve-St. Maurice Faith Formation will be starting September 21, 2022, from 5:30pm-7:00pm.  Fill out your registration below and email, mail, or drop it off at the parish office. If you have any questions about the Faith Formation program for your children, please contact us using the information below. We look forward to the upcoming year!
Faith Formation Registration 2022-2023
Faith Formation
St. Genevieve-St. Maurice Catholic Parish
29015 Jamison St.
Livonia, MI 48154 
Phone: 734-261-5920
Director of Faith Formation:
Phyllis Chudzinski
Administrative Assistant:
Kellie Chamberland
Office Hours
Monday, Tuesday and Thursday
9:30 a.m. – 3:00 p.m.
Wednesday
1:00 p.m. – 7:00 p.m.
Class Schedule
Kindergarten through Grade 8
Wednesdays 5:30 – 7:00 pm

---
About:
Our Faith Formation program provides a well-rounded Catholic education to the youth of our parish.  We use traditional book learning, prayer services, and hands-on activities to bring our faith to life for our children.  Our program builds upon itself as the children move through each grade so they can live as faith-filled Catholic Christians upon receiving Confirmation at the end of 8th grade.
First Communion sacramental preparation begins in first grade and continues through second grade. First Communion preparation includes a retreat and rehearsals for First Communion. Confirmation sacramental preparation begins in seventh grade and continues through eighth grade. Confirmation preparation includes service work, research of a saint, a one-day retreat, and composition of a letter to the pastor stating the Confirmandi's preparedness and requesting permission to be confirmed.
There is always a need for volunteers: Catechists (training and materials provided), catechist aides, hall and parking lot monitors.

Submit Forms Online